U003 – Correction auto-update / Can I still change a widget after students have sent in their answers?
Yes, partially.
BookWidgets' Update autocorrection with latest widget version feature lets you make changes to a widget after your students have already sent in their results. The option will automatically re-grade these results according to your changes.
You can change two things:
You can change the scoring weight of a question (e.g. when you forgot to configure it, or you configured it incorrectly).
You can change the right answer of the following question types: multiple-choice, multi-select question, single line, fill-in-the-blanks, fill-in-table and annotate picture question.
Bear in mind that you can't…
… edit the widget title in the top-left corner (even if it's just removing or adding a space);
… add or delete questions to your tests;
… change the order of questions;
… add extra answer options or fields to multiple-choice question types and the annotate picture question type.
… add, move, remove or replace images.
Doing any of the above will put new submissions into a separate section. If you've already made such changes and are wondering how to undo them, see below.
Updating the autocorrection with the latest widget version
Go to your quiz widget configuration in BookWidgets, and change an erroneous answer to a correct one.
Update the shared copy of your widget.
Any new submissions will now be graded correctly. Now, proceed to update any existing submissions:
Go to

Grades and Reporting

on your BookWidgets dashboard, and open the student work that has the submissions.
Click on the settings cogwheel, and choose

Update autocorrection with latest widget version

.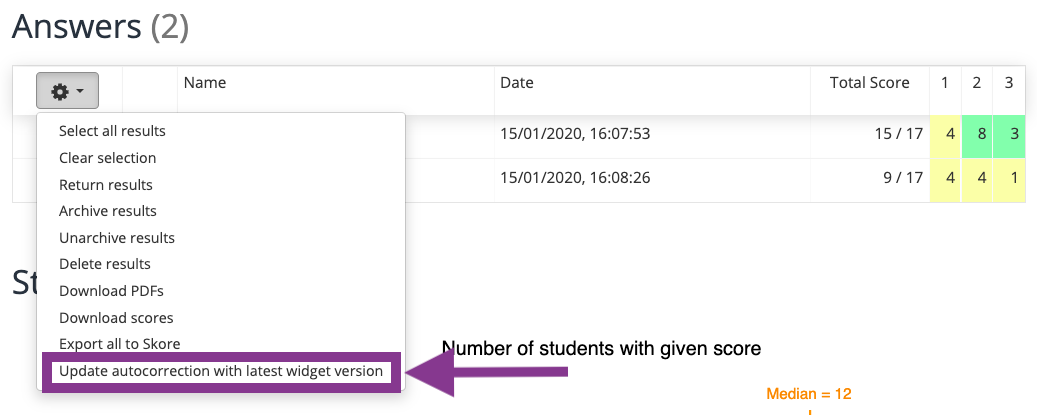 Now, all answers will be automatically graded again, based on the widget or test you just changed. The scores of your students will be adapted correspondingly. If needed, you can still switch back to the first graded version of the autocorrection; just click the cogwheel again to do so.
I've already made changes that messed up the results. Can I still fix it?
Yes. You can still restore the last version of the widget that still worked. Click here for instructions on how to restore a previous version of a widget.
---